This shop has been compensated by Collective Bias, Inc. and its advertiser. All opinions are mine alone. #LoveTheseCleanPaws #CollectiveBias
Spring has officially arrived, and so has my need for spring cleaning. I use this time to get rid of useless items and toys that haven't been touched by my kids for weeks, even months. This is followed by the organization process. Clothes, toys, arts/craft supplies, and even our pet's items. I love it when everything is organized, especially Marbles' cat essentials. Here are my 5 tips for organizing your cat's essentials.
Hover over the image below to start shopping for your cat's litter essential!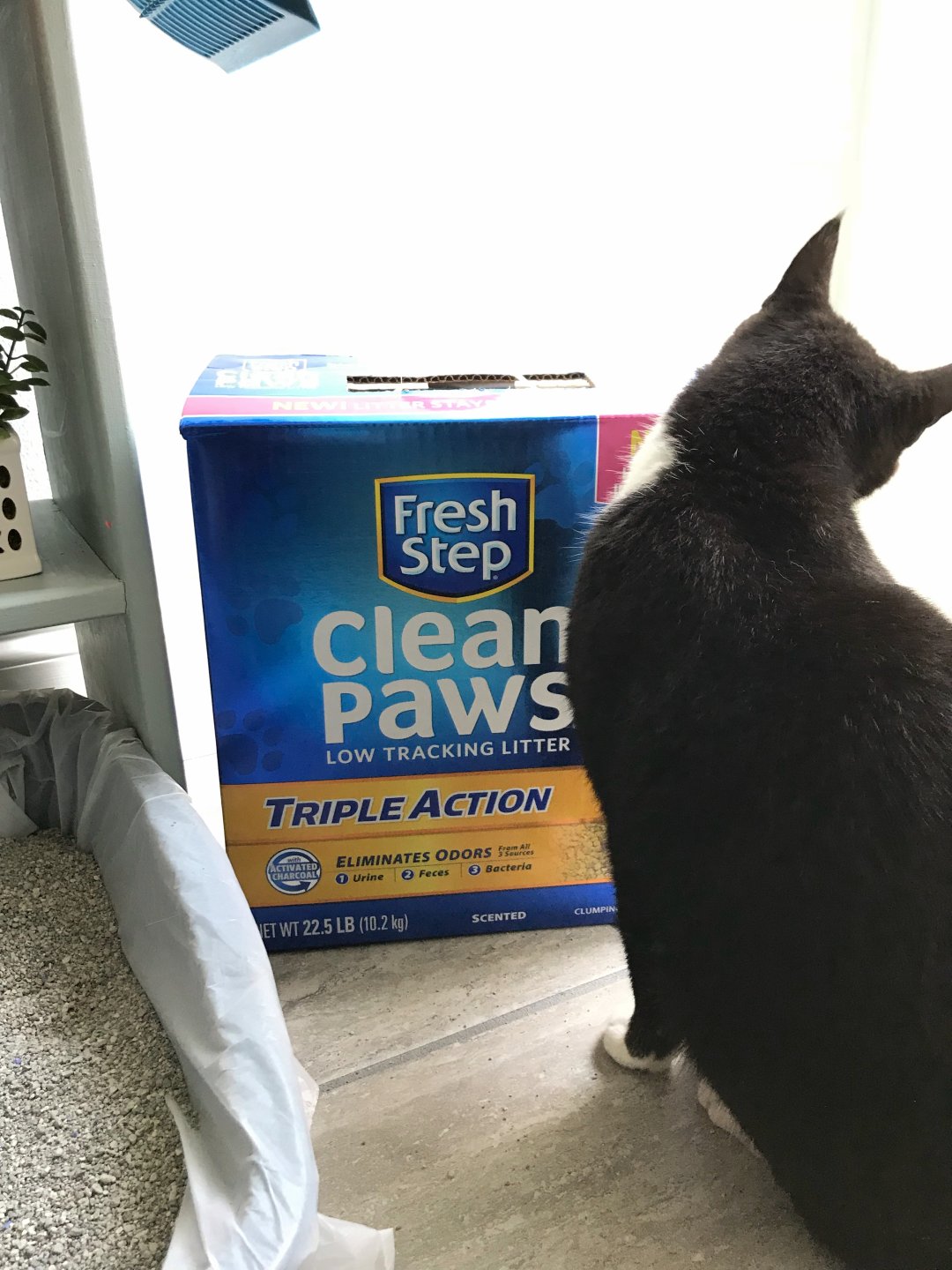 Toys and Treats.
When it comes to organizing cat items, you must think convenience and what will work best. Marbles is our adventurous and lovable family cat. She is all about her toys and treats. So these must be readily available for when the kids are ready to play with Marbles. The best way to organize those toys is to place them in a washable, plastic bin. This way it can easily be pulled out and placed on the ground for play time. The fact it is plastic makes it easier for when it comes to any routine cleaning. As for the treats, I have them in a plastic container with a twist lid. I can easily place this container in the dishwasher when needed. I don't have to worry about the kids dropping it and breaking it either.
Sealable Cat Food Container.
Storing Marbles' food in a sealable glass container is a space saver and great at keeping the food fresh. It also gives the storage area a clean, contemporary look when using open shelving. I absolutely love this sealable glass container because it also has a chalkboard label on it.
Metal storage tins for those litter box liners.
Changing a litter box can already seem like a tedious chore at times, but not with litter box liners. Keep these at easy reach within tins, such as this cute metal storage tin.
Litter storage is a must.
Cat litter is a must when it comes to having an indoor cat. How you store it is another topic at hand. Most litter can be purchased in big bags or large plastic bins. The bulkiness can be a hassle when you are trying to get your cat's essentials organized as well as at an easy reach. Fresh Step® Clean Paws™ Triple Action Scented Litter is by far our favorite. It not only comes in a heavy duty box that can be stored easily, but the litter itself is a low tracking litter. No litter mat needed for our litter box because the litter is low dust and low tracking.
Did I mention how great it smells? It eliminates odors with its triple action activated charcoal. I used to have some sort of air freshener plugged in near the litter box, but not anymore with Fresh Step® Clean Paws™ that can be found at Target. If you can't tell, Marbles loves it enough to roll around in it. Its special blend of larger particles designed to stick less to your cat's fur allowed for Marbles to walk out without a huge mess. This cat litter made by Fresh Step® is a must for anyone looking for a great litter and a way to keep those cat essentials organized. We were able to eliminate Marbles' litter mat and air freshener, and can easily store it next to our open shelving. Fresh Step® Clean Paws™ Triple Action Scented Litter is Marbles' go-to cat litter from now on!
Litter scoop up and out of the way.
If you have a litter box, you normally will need a litter scoop. Litter scoops can be a nuisance when you are trying to organize and have a clean storage space. They are not only bulky, but just give you that 'gross' feeling. One way to get rid of those two issues is by hanging it from the side of your storage space. I just placed a nail on the side of our open shelving for it to hang until needed. If you do not have the option of this type of shelving, you can hang it from a hook inside a cabinet door. The idea is to get it up and out of the way.
Spruce up that space.
I love the idea of open shelving when it comes to organizing the items that I readily need. It not only keeps items at hands reach, but also encourages you to keep items tidy and organized. The open shelving for Marbles' cat essentials allowed for a few decorating items. I added a mirror and live plant on the top of the shelving and a fake succulent plant near the white metal tin on one of the bottom shelves. These accessories added the perfect touch to this cat's essentials area.
Now head to your cat's essentials storage area and get that organization going. Don't forget to check out Fresh Step® Clean Paws™ Triple Action Scented Litter at Target as well as for all your other feline's needs! Look for the Cartwheel offer running from 4/1-4/7.
© 2018 The Clorox Company.